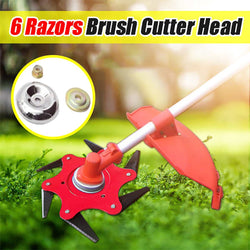 Orniture™
Garden Lawn Mower Trimmer
Electric string trimmer powered by 21V lithium-ion 2 Ah battery for performance. Charge time: 2 Hours.
FEATURES:
The angle of the machine head can be freely adjusted within 180 degrees For Edging, so the trimmer can trim lawn and trees, no matter at the wall corner or in the flower bed.

Compared to the models with cables, cordless lawn trimmers offer greater mobility. The telescopic link is adjustable between 90-120cm.
SPECIFICATION:
What's include in Box,
1 x Garden Lawn Mower Trimmer
Garden Lawn Mower Trimmer
Garden Lawn Mower Trimmer
Garden Lawn Mower Trimmer
good quality and fast delivery thank you
Garden Lawn Mower Trimmer